Episode one Of "The Circuit:Urbiessa" will now be a feature film entitled "Star Crew". Introducing the enormous city of 'Urbiessa', a cross between "Metropolis" and "Gotham" and has become a multi genre sci-fi dark comedy (A cross Between "Shaun Of The Dead" and "Galaxy Quest"). The screenplay was written by fans David Henry Martin, Tim Gagliardo and creator executive producer Manu Intiraymi. We have attracted A-list talent not yet announced on this website. After the theatrical release we will be pitching the idea for a spinoff anthology series based on the city/location introduced to fans in the movie. These episodes will be an anthology concentrating on all sci-fi sub-genres such as Sci-Fi Action, Sci-fi Mystery, Sci-fi Romance, Mocumentary, Drama etc...We will be pitching to all the cable networks, major streaming platforms and network television.
These stories are in the capable hands of 10 amazing directors, a group of talented star actors, a professional crew and of course the incredible FANS that will collaborate and work side by side to energize each story. Please help us finance the very first episode of "The Circuit" anthology by visiting our shop, investing in the film or making a donation. Help us make an incredible film and get a phenomenal series off the ground! It's up to you!
After a full year of rewrites and a lot of hard work, "Star Crew" is ready for production. The audience and fans will be introduced to "The Circuit: Star Crew" and Urbiessa through a complex, time travel comedy worthy of its place on the big screen.
Investment in "Star Crew" The Circuit Episode 1 is available and starts for as little as 10K. We are aiming to raise an additional 300K in equity to shoot the film for 2.3 Million. More information on the marketing plan, investor documentation, and more details on our A-list cast is available for investors by contacting by contacting our Executive Producer and Creator of The Project Manu Intiraymi at [email protected]. All investors come on with producer credit as have set visitation privileges for the length of the 5-week shoot. Let's make a movie together, and launch a franchise like the world has never seen before.
"Hi! My Name's…"
Research Vessels and The Professor and Carol
Time Portal Opening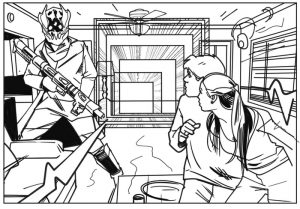 TAR CREW MEMBERS HIDING FROM THE MEGA-ZOMBOT
Early Zombot Sketches
Zombot Look Ideas